CERTIFICATIONS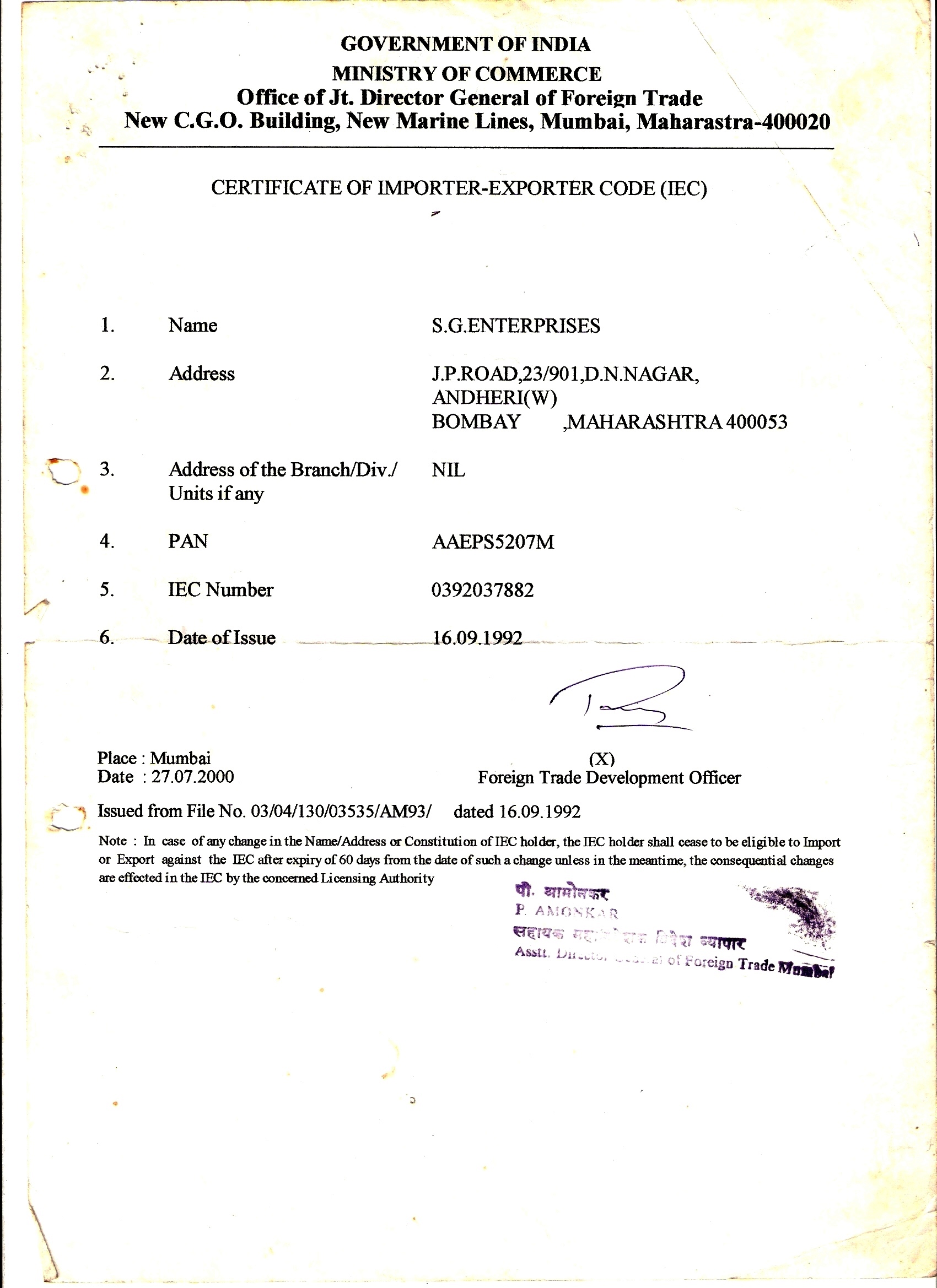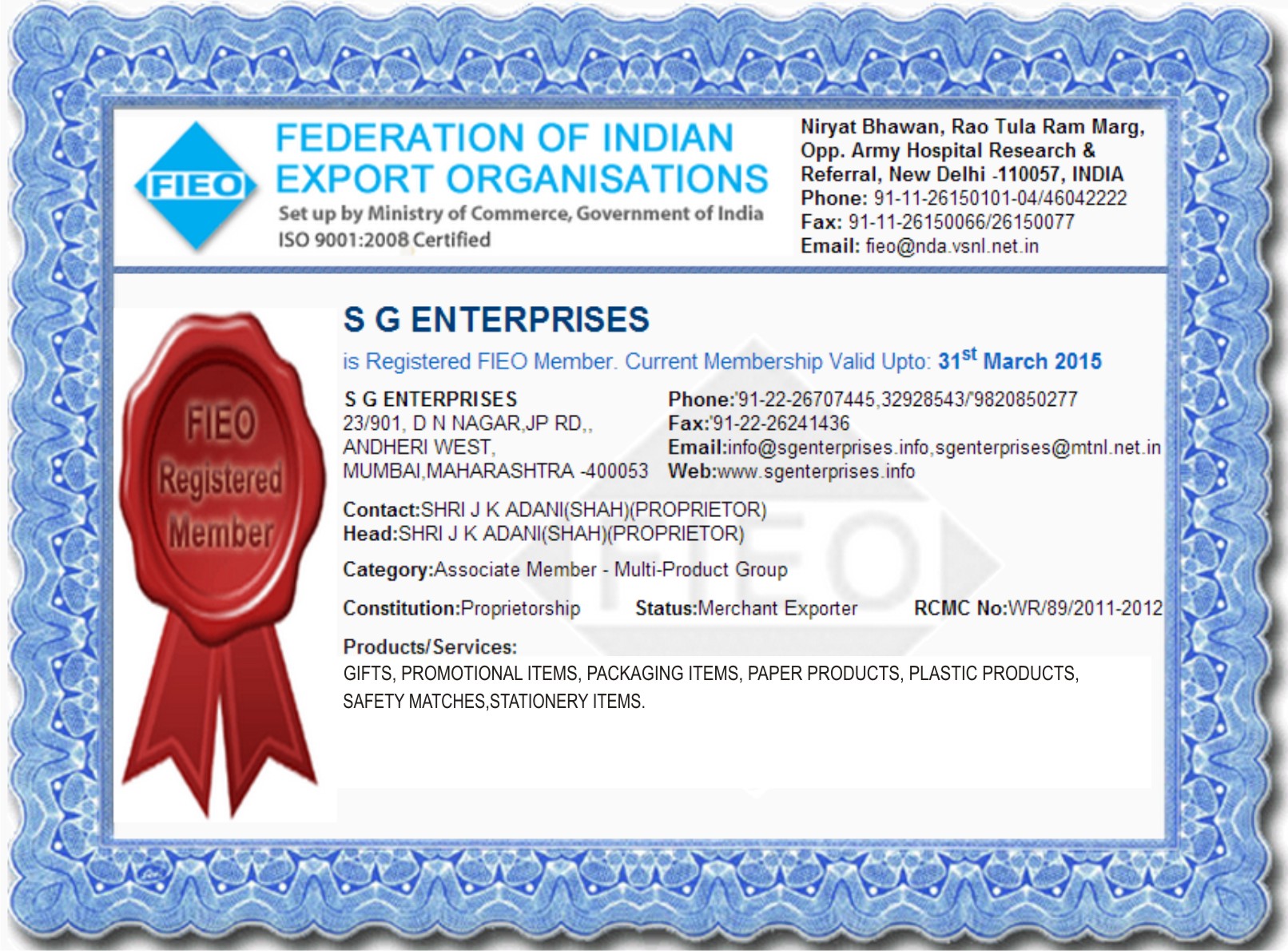 COMPANY PROFILE
An one stop shop for a wide range of Stationary and Promotional Products, we S. G. Enterprises are one of the leading manufacturers, importers, traders and suppliers of an exclusive and wide range of products. We already have a strong presence in East & Central Africa, South Africa and Middle East, where we are reckoned as one of the leading exporters & also our brand well established. Carrying the expertise of almost twenty years, we have made our skills very refined and matured; this is quite visible from high quality product range, which includes Counter Books, Exercise Books, Registers, Calendars, and Diaries etc.
"Our Primary Competitive advantage is being creative, providing good quality products, efficiency in systems & processes and customer satisfaction."
Our products like Counter Books, Exercise Books, etc are in high demand in the market for its unique and exclusive designs. We design and manufacture our products after understanding the requirements and choices of the customers in general; hence our products are favored by one and all. Moreover, quality always remains as an integral feature of our each and every product. Owing to the warm acceptance of our products in the international market, we have introduced our own brand-SG-SUPREME; it's names that epitomize high quality, cost effectiveness and customer loyalty.
We are a Mumbai-based company that was established in the year 1992. The brands that we deal are Xellent, Prestige and World Star and so on. We also have our own home brand "S.G SUPREME."
3 We take utmost care while selecting each and every product. We judge them on the basis of quality and then shortlist them before they are finally handed out for delivery. Our delivery is prompt and on time. We also offer affordable quotes to our clients. We understand the exact needs of our clients and formulate our work module so that it is in exact Alignment with the needs of our clients.
We are proud to say that we have a technically qualified, dedicated and enthusiastic manpower to carry out the production as per desired quality. Proper care is taken for timely delivery too. Our expertise begins with the selection of proper quality paper, ruling, binding, finishing, packing and finally, to dispatch the finished goods.
Vision
To become a leading globally competitive notebook and paper stationery manufacturer by 2000.
Mission
To set up new world class manufacturing facilities in India and abroad and to enter into world markets and achieve export sales turnover of 25% of total sales.
Please feel free to contact us right way in order to avail our products or for any further queries.
Awards & Accolades
An organization's TRAJECTORY resolves around 3 stages - Initiation, Sustenance and Growth.
We are proud to have reached the third stage in a span of few years of inception.
We have been able to create huge milestones and breakthrough memories over a period of time and it would be our privilege to present the achievements with our esteemed stakeholders. Following are some of the glimpse:
Awarded a Membership with FIEO, an Autonomous APEX body of Indian Export Promotion organization in the year 1992.
IEC Certification by DGFT in the year of Incorporation – 1992.
In the year 2014 for its outstanding performance Company was awarded and recognized with Export house certificate by the government (DGFT).
Under the dynamic leadership of Promoter Mr. Gaurnag Shah the company achieved its goal of accrediting ISO certificate in the year 2015 and since then all quality and operations are as per ISO standards.